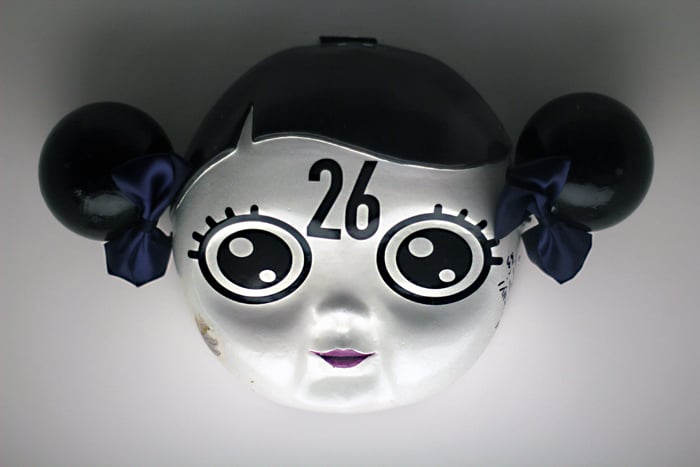 Collectible Signed Mask from The Birthday Massacre "Looking Glass" Video
by Dan Ouellette
$

500.00

/ Sold Out
---
This is one of the original costume masks (#26 to be precise) worn by one of the extras who took part in the candy goth band The Birthday Massacre's "Looking Glass" video in 2008.
https://www.youtube.com/watch?v=SREZ-ggSDjM
The entire mask is intact and in great shape!! It has a few scuffs it sustained during the filming. All masks were hand made for the video.
The frame measures: 21.5"x21.5"x6"
The mask measures: 14"Wx8"Hx3"D
Signed by the members (Chibi, Rhim, Falcore, Owen and Rainbow), the mask is mounted in a deep, black frame. The strap is still intact behind the mask, should its new owner wish to take it out and wear it, although it's not meant to come out and there are no eye-holes in the mask. It's also very fragile.
If you have any questions, or want to see detailed pictures, please contact Samantha at binnorie@gmail.com
Shipping:
If you live near New York City, it's best to figure out how to hand it off. This not only saves money, but ensures the safety of the work. For those who would need it shipped, the mask in its frame will be packed to ensure it does not break during shipping, especially since the frame is fronted with glass. I'll ship domestically or internationally, however I'm not responsible for your country's customs fees. All shipments must include insurance. Please keep in mind that shipping might be very expensive! Please contact Samantha for alternate shipping options. binnorie@gmail.com
"Looking Glass" is from the band's Walking with Strangers album, released in 2008. The Birthday Massacre are part of the gothic dance-pop, candy goth or gloom-pop genres.